Our team
Our team
Our team
President: Anna Vanbellinghen
Secretary: Isabelle Genot
Treasurer: Isabelle Genot
Head of Coaching & Programming: Anna Vanbellinghen
Marketing & Communication: Mathilde Denayer
Strategy Officer: Dirk Verreycken
Anna Van Bellinghen
Born on March 10, 1994 - Senior - SHN status (High Level Sportswoman) under ADEPS contract - ADEPS Instructor-Initiator - Master's degree in English and Russian translation.
Anna's carreer highlights:
World weightlifting championships 2021 in Tashkent (Uzbekistan) - 7th place
Tokyo 2021 Olympic Games - 11th place
European Senior Championships 2021 - 7th place
Roma 2020 World Cup - Bronze medal (snatch, clean and jerk and total)
Cup of the Blue Swords 2019 (Meissen-Germany) - Gold medal (snatch and clean & jerk)
European Senior Championships 2019 (Batumi-Georgia) - Gold medal in snatch and Silver medal in total
2018 World University Championships - Gold Medal
2018 Senior European Championships (Bucharest) - Silver medal in the snatch and 4th place in the Total
Senior World Championships 2018 in Ashgabat (Turkmenistan) - 12th place
European Senior Championships 2017 in Split - Bronze medal in the clean and jerk and 4th place overall
Senior World Championships 2017 in Anaheim (California) - 10th place
European Senior Championships 2016 in Forde - 9th place despite a broken wrist
European Championships U23 2016 in Tel Aviv - Bronze medal
European Championships Senior 2015 in Tbilisi - 8th place
European Championships U23 2015 in Klaipeda - Bronze medal in the clean and jerk with 128 kg and 4th in the Total
European Junior Championships 2014 - 4th place
Junior World Championships 2014 - 8th place
several times Belgian Champion, Belgian Recordwoman Cadet, Junior and Senior.
Total record: 236 kg (108+128)
Snatch record: 110 kg
Clean and jerk record: 132kg
Marianne Saarhelo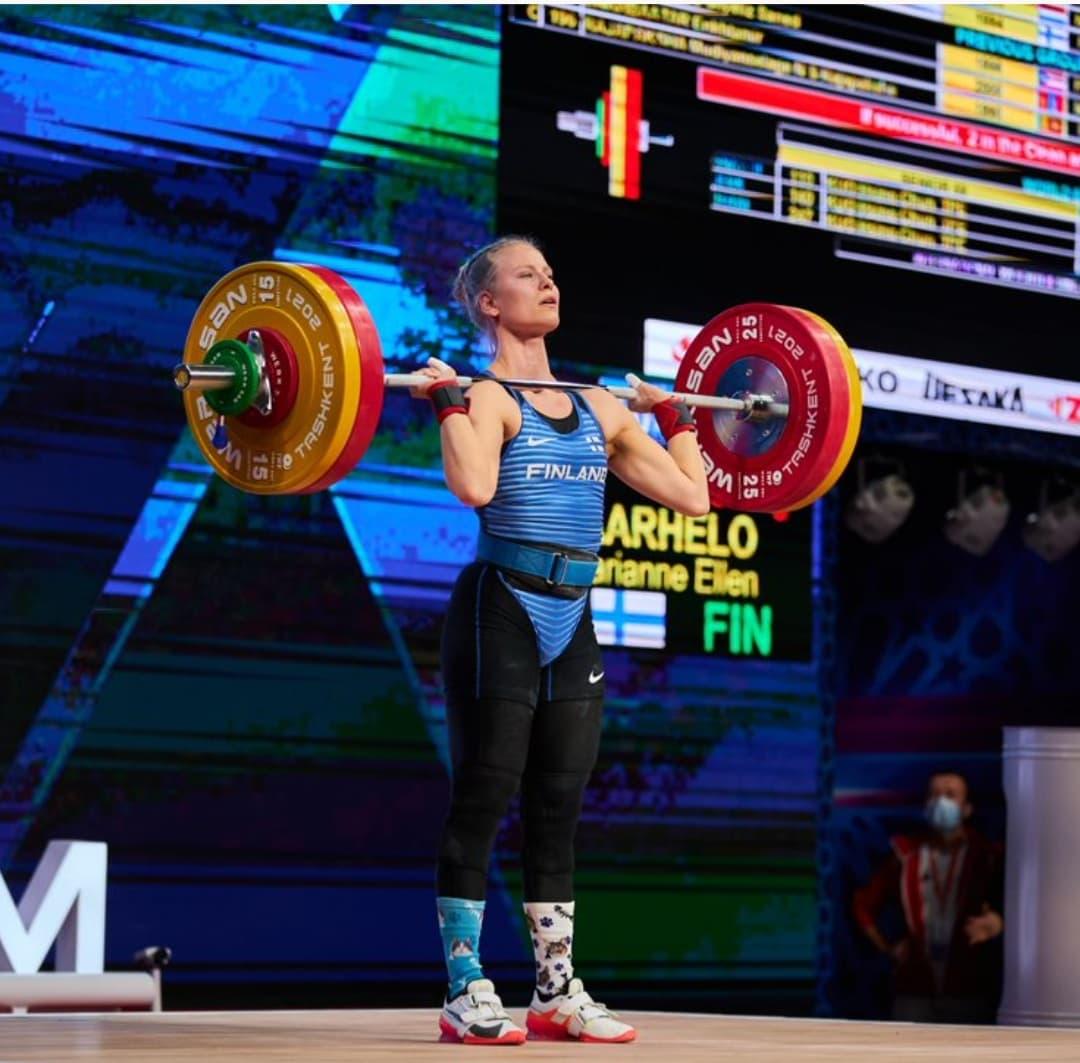 Born February 16, 1994 - Senior, Finnish athlete
2022 Finish Champion

silver medal at the Roma 2020 World Cup

bronze medal at the Cup of the Blue Swords 2019 (Meissen-Germany)

Finnish U23 woman record in the <63kg category

9th at the European Senior Championships 2019 in Batumi (Georgia)

25th in her category at the World Championships 2018 in Ashgabat (Turkmenistan)
Martijn Verhagen - born 11 July 95 - Senior - Dutch - Martijn achieves his best performance at an interclub competition in Lasne in 2022 with total of 240kg (105+135)
Dirk Verreycken - born March 3, 1988 - Senior, Belgian - Sport Vlaanderen Instructor-Initiator. His best performance to date is a total of 251 (109 + 142) at a friendly competition at the Sporting Club of Neuilly (France) in 2022.
Alissa Ezzeddine - born April 18, 2003 - Currently under ESI (Currently on ESI status: Espoir Sportif International) - Her best performance is 150kg (67+83) at the 2021 French Championships
Adrien Dubus - born on October 20, 1989 - Senior - Physiotherapist and osteopath - Best performance at the interclub of Seraing in April 2019, where he achieved a total of 163kg (71 and 92).
Isabelle Genot - Master 60 - Silver medalist at the European Master Championships in 2021 in Alkmaar (Netherlands). She achieved a total of 91 (39+52) at the 2021 Belgian Master Championships adding 6kg to her record only 2 months later at the BWS intimate tournament (42+55)
Alea Fairchild - born on June 28, 1964 - Master 55 regularly medalist at the European Masters Championships - Gold medalist at the Asia Pacific Games 2018 - recordwoman of her age category